Sponsored post

Welcome To Recharge And Get Paid (RAGP) Telecommunication Business Presentation
My name is Unwanaobong. I'm from Southern Nigeria. I'm a blogger and an Affiliate Marketer. Read More About Me Here. I will be enlightening you on the need to partake in the wealth of Telecommunication industry which has been in existence since 2015.
This is something we do every day, if not every 12hours without getting paid for that; whereas we should get paid for doing such. unfortunately, we even end up being debited in form of SMS debit alert charge. Get Informed: If you can't watch this short video clip or listen to the short audio clips below the video…make effort to read the writeup to the end.
You can listen to this audio presentation about RAGP for better understanding
Watch this LIVE Recharge of airtime from this platform
In Summary…
Before I proceed, I will like you to remove any ill mindset of Unwanaobong being a scammer or fraudster. This business is not owned by me. I'm a partner who has tested and trusted the company that is why I had to pay Google, Facebook, and some other advertising companies so you can see the opportunity too.
I wonder if anyone can spend on something that doesn't worth it? One thing is to be shown an opportunity. Another is to embrace it. If you think it's worth engaging in, Why not proceed and join my team immediately?
Now some persons have called and chatted saying they don't really understand especially how they get paid in this business. Now listen and get it, when you register with for instance 5k package, the company will give you back 20% of 5k which is 1k that is N1,000 to start the business with.
Now it's from this 1k that you will be making your purchases of airtime, data and so on. So when for instance you buy airtime worth N500, the 500naira will be deducted from that 1000 you were having and you will be having only N500 left. Then again, the 2% of N500 will now be added to that N500 that you have left in your RAGP account.
If you sold the N500 to a friend, then you have to get the cash from that friend while you have your commission paid to your RAGP account. So when all these commissions accumulate, you can now withdraw them to your local bank account.
Note that you will add your bank details at the point of registration. And RAGP pays you under 24hrs, it won't reach 24hrs sef. So that's it about this business.
So the same applies to all aspect of using the products in this platform. Both data purchase, cable TV subscriptions or NEPA bill payments. You get the money from the customer either by cash or ask the customer to pay to your bank.. Any which way..then you login to your RAGP account and make the transaction. Then the accompanying commission will be credited to your RAGP account so that when they accumulate you can now withdraw to your local bank account. Minimum withdrawal is just N1,000. Now when you exhaust all the money you are having in your RAGP account and you still want to make transactions, then you have to fund your RAGP account by paying the company or other RAGP users so they add more money to your RAGP account. Just as you deposit in your bank account! You can fund any amount ranging from 1000 and above and any amount you pay them is what you are getting as well. Very simple, lucrative and smooth business. I don't see any reason that will make it look unreal.. You and I use airtime and data daily. why don't we get paid for using them?! See you at the top big brethren!
Don't forget you get:
2% for any airtime you sell or use personally; 0.35% for the ones used or sold by those under you whether directly under you or indirectly registered by those you registered!
10% for any data you sell or use personally; 1% for the ones used or sold by those under you whether directly under you or indirectly registered by those you registered!
40naira for any TV cable subscription you make for yourself or for someone else; 10naira for the ones done by those under you whether directly under you or indirectly registered by those you registered!
PV which means POINT VALUE comes along with your registration depending on the package you choose to start with OK? Check below for the PV values. Still call me on the phone or chat me if you are still confused in any part of this business. As you must have seen from my explanation, no one needs to tell you that referring is a MUST. This is not a business where you make money only when you register others. You can choose to refer or choose to be dealing with the products ONLY or choose to be active on ALL.. This business is just OK… I wish you can get all about it.
Now for those who would be interested in the networking/referring part of this business, Listen:
Your earnings start once your account is activated. 20% of your sign up fee will be credited back to your wallet.
If for example you register *CHUKS* and *CHUKS* chooses to start with the Platinum package which is 50k…..
*CHUKS* will earn back *N10,000* instantly that is his 20% AND 200 Points known as Point Value (PV).
You that referred *CHUKS* Will also earn *N10,000* and 200 Points (PV).
*CHUKS* NOW REGISTERS *EMEKA*
WITH THE SAME PACKAGE…
*EMEKA* earns *N10,000* and 200 Points (PV).
*CHUKS* that referred *EMEKA* Will also earn *N10,000* and 200 Points (PV).
You that didn't even know *EMEKA*.. will earn *N5000* referral bonus FROM *EMEKA* and 200 Points (PV).
ALL THE RECHARGE CARDS FROM *EMEKA* and those under *EMEKA* FROM *CHUKS* AND THOSE under *CHUKS* YOU ARE BEING PAID FOR ANY TRANSACTION THEY CARRY OUT.
Doing RAGP Business With & Without Referrals
You can register and do this business as a distributor or as a networker… Either way, you get paid… because no matter how hard the economy is, people will always buy recharge card to make calls, subscribe data to browse the internet and subscribe cable to watch programs on TV.
As a Distributor:
Assuming you register today and decide to be selling products to customers only without recruiting anyone, let me show how you could earn almost 100k monthly just by recharging.
If in a day,
20 customers buy ₦1000 airtime,
20 customers buy ₦1000 data and
20 customers subscribe for cable tv
Your daily active income will be;
For airtime: 20 × ₦1000 × 2% = ₦400
For data: 20 × ₦1000 × 10% = ₦2000
For cable: 20 × ₦40 = ₦800
which gives you ₦3200 total profit on sales daily
₦3200 × 30days is ₦96,000 monthly
All you need do is build your customer base and give them the best of service to retain them…
To make more profits, all you've got to do is increase your number of customers…
TIPS: As a VTU distributor, learn to fund your wallet ahead of time…You can't be seen running around looking for a funded wallet when clients come calling, it doesn't make you look business-minded.
Now here is the catch: before you sell to all these people daily for a week, some sharp and smart ones will decide to join you in the business.. Be a wise and smart distributor in RAGP and you just win all the way by recruiting your customers.
As a Networker:
Now to make the business even more interesting and rewarding, teach some of your customers how they could recharge by themselves and get their own commission if they became a distributor just as you are.
Since we can recruit an unlimited number of people who each can do the same, we are ultimately paid on the efforts of hundreds of thousands of individuals. Let me show you how RAGP can make you a MILLIONAIRE…
If in a day,
20,000 downlines sell ₦1,000 airtime,
20,000 downlines sell ₦5,000 data and
20,000 downlines pay for 5 cable subscriptions,
Your daily passive income is;
Airtime: 20000 × 0.35% × ₦1000 = ₦70000
Data: 20000 × 1% × ₦5000 = ₦1000000
Cable: 20000 × ₦10 × 5 = ₦1000000
which gives you ₦2,070,000 profit on downlines' sales daily.
₦2.07M × 30days is ₦62.1M monthly
All you need do is recruit and then build your team patiently…
RAGP gives every one of us blank cheques, fill what you desire on yours…
Registration Packages & Benefits
You start earning immediately in cash and point value, PV.
Basic = ₦5,000 – You get ₦1000 bonus + 20PV. You earn up to 5th level deep.
Bronze = ₦10,000 – You get ₦2000 bonus + 40PV. You earn up to 6th level deep.
Silver = ₦20,000 – You get ₦4000 bonus + 80PV. You earn up to 7th level deep
Gold = ₦30,000 – You get ₦6000 bonus + 120PV. You earn up to 8th level deep.
Diamond = ₦40,000 – You get ₦8000 bonus + 160PV. You earn up to 9th level deep.
Platinum = ₦50,000 – You get ₦10,000 bonus + 200PV. You earn up to 10th level deep.
Executive Platinum = ₦100,000 – You get ₦20,000 bonus + 400PV. You earn up to 10th level deep.
Are You Interested In Becoming A Licenced Distributor In Telecom Industry?
If YES! Select a registration package above and head over to RAGP REGISTRATION PAGE and signup using John316 as your Referral ID.
You can pay online by selecting PAYSTACK as your payment method. Now, after making the payment and you can't still log in to your account, don't panic, just contact me and I will make contact to the admin and your account will be activated. I look forward to partnering with you! Chat me if you are unable to pay online. Thanks,.
WAIT! Have you ever wondered why banks started selling airtime, data and even providing cable subscription and NEPA bill payment services? Can it be that the money they are getting from their banking and finance services aren't enough? See, sometimes, we do not need prophets to reveal to us some certain things going on in our country..We just have to think! YES! Banks are making serious money from telecommunication services including airtime and data sales. If banks can engage in this, what about you?
Register Now Using John316 As Referral ID
Here is the certificate of incoporation if you are still in doubt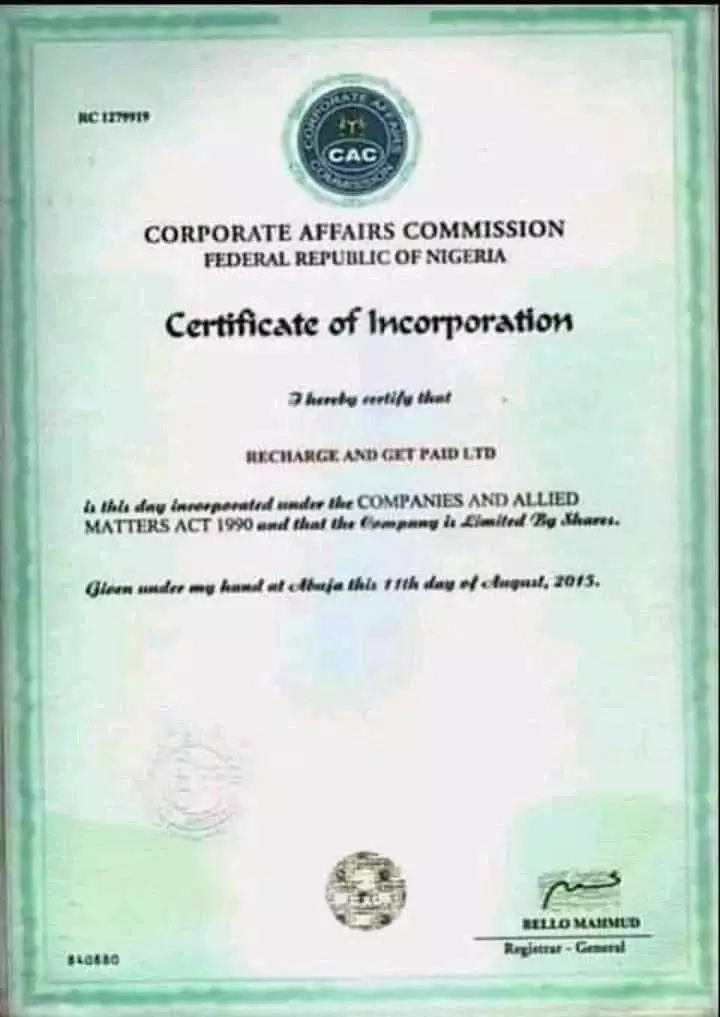 Another Means Of Earning in RAGP…
Another way to earn hugely from this amazingly rewarding Telecom Business is the accumulation of PVs.
You ask me what is PV?
PV means POINT VALUE
These are the POINTS that comes with your REGISTRATION PACKAGE as well as your team
You will not only earn the Referral or Registration Commissions from your team members, the Point Value attached to the package is also received WHICH will count for you over time
When it accumulates to 10K PV… in a month, you will receive N100,000 Leadership Bonus
If you do not meet the 10K PV in a month, it will be rolled over to the next month, and as it increases to 25000 PV, you will receive 500K DUBAI TRIP FUND
As it increases over to 60K PV again, you're given 2M small Car Fund.
When you and your direct and indirect referrals make up to 100,000 point values, you are given a HOUSE GRANT/ N3,000,000
When you and your direct and indirect referrals make up to 250,000 point values, you are given 2ND HOUSE GRANT/ N4,000,000
When you and your direct and indirect referrals make up to 500,000 point values, you are given the 4TH HOUSE GRANT/ N6,000,000
NOTE:
√ POINT VALUE (PV) IS ACCUMULATED THROUGH REFERRALS AND UPGRADES OF MEMBERS.
√ EACH PACKAGE HAS ITS OWN ATTACHED POINT VALUE (PV).
Some Evidence Of Payment To Members' Bank Account
Some Qualifications Of Members As Regards Their PVs





Register Now using John316 As Referral ID
I have done my bid, now the ball is in your court.
Would you rather seize this opportunity now and start making money as you recharge your phones or seat and watch this rare opportunity pass you by?
The choice is all yours…
Note: I will delete this page in less than 2 days and stop telling people about recharge and get paid.
Take action NOW! Or miss is for life.
JOIN RAGP NOW – USE JOHN316 AS YOUR REFERRAL ID
Sincerely,
Unwanaobong (+2348025342232)
For Recharge And Get Paid (RAGP)