When I wrote about how to join a porn company in Nigeria, I also said that you can become a cam girl and make a lot of money from the porn industry.
Today, I have come up with the actual article that will guide you on how you can become a cam girl.
You can decide to be a cam girl as part-time stuff or as a full-time thing.
The choice of how to operate is all yours.
I think when you get in you know the nitty-gritty of being a cam model, it will help you make informed decisions on how to operate.
Before you get started, you need to learn a few things about how to be a cam girl to help you gain the edge over thousands—if not millions—of other aspiring live show cam models out there.
It's not an easy job, but as they say, someone has to do it, and that someone can be you.
So how can you be that special person that stands out from the rest?
Take your time and read through this article and leave a question wherever you are in doubt.
What You'll Need To Be a Cam Girl
Before you can start working as a cam girl, you need a few pieces of the necessary equipment to properly set up your workspace.
This includes:
Stable internet connection; at least 720p streaming
Active account on cam sites
Available payment method (PayPal, bank account, etc.)
Laptop with a camera to process 720p video/photos
USB microphone
Tripod (optional)
Alternatively, you can use a smartphone as long as it's capable of providing at least 720p video resolution and HD photos.
How To Be a Cam Girl: A Step-by-Step Guide
1. Choose the Right Live Sex Show Site
Choose a camming site that suits your needs best.
This includes your preferred work schedule, how much you want to earn a week (or a month), and what kind of live cam shows you want to do.
The audience matters too.
This involves scoping out the online crowds on any given camming site.
Here, you have to factor in user traffic (how many people visit the site), the quality of users (are they looking for free shows or are they big spenders?), and the kind of kinks and other preferences they have.
You'd be better off doing your cam girl BDSM shows on a fetish site specifically catering to those kinds of performances than, say, one that's got an audience full of fans of stripping.
As a camgirl, your main concern should be knowing the right audience for your live cam shows, and what site to find these people on.
Sites like Chaturbate have plenty of diverse performers and different niches catered for, so that may be a good place to start if you're not sure.
Payment Systems on Cam Sites
Apart from the cam show content that these live show sites provide, you can divide the different platforms by how they charge their viewers.
There are three primary divisions:
Per-Minute Sites
These are live cam model sites that charge their viewers by the minute, usually in a private or cam 2 cam (one client with one performer) setting.
Simply speaking, the longer they watch you perform, the more you make.
LiveJasmin is a good example of a per-minute cam site.
Token Sites
Token sites like Chaturbate charge viewers in a way that's similar to tips.
These are mostly done in public live sex chats where you perform for numerous viewers.
There are a couple of ways that you can charge for your live shows as a cam girl on these token sites:
Create a price list – Set specific prices for every sexual act
Use a goal system – Set a benchmark for each act you want to do. Viewers then chip in to accumulate the rate you set for that show's goals.
Combo Sites
Combo sites, as the name suggests, are live cam websites that let the cam model charge both on a per-minute basis and through tips.
This gives you the option of performing in public live chats, or private shows and cam 2 cam settings.
StripChat is a very popular combo-style camming site?
2. Set Up Your Cam Girl Account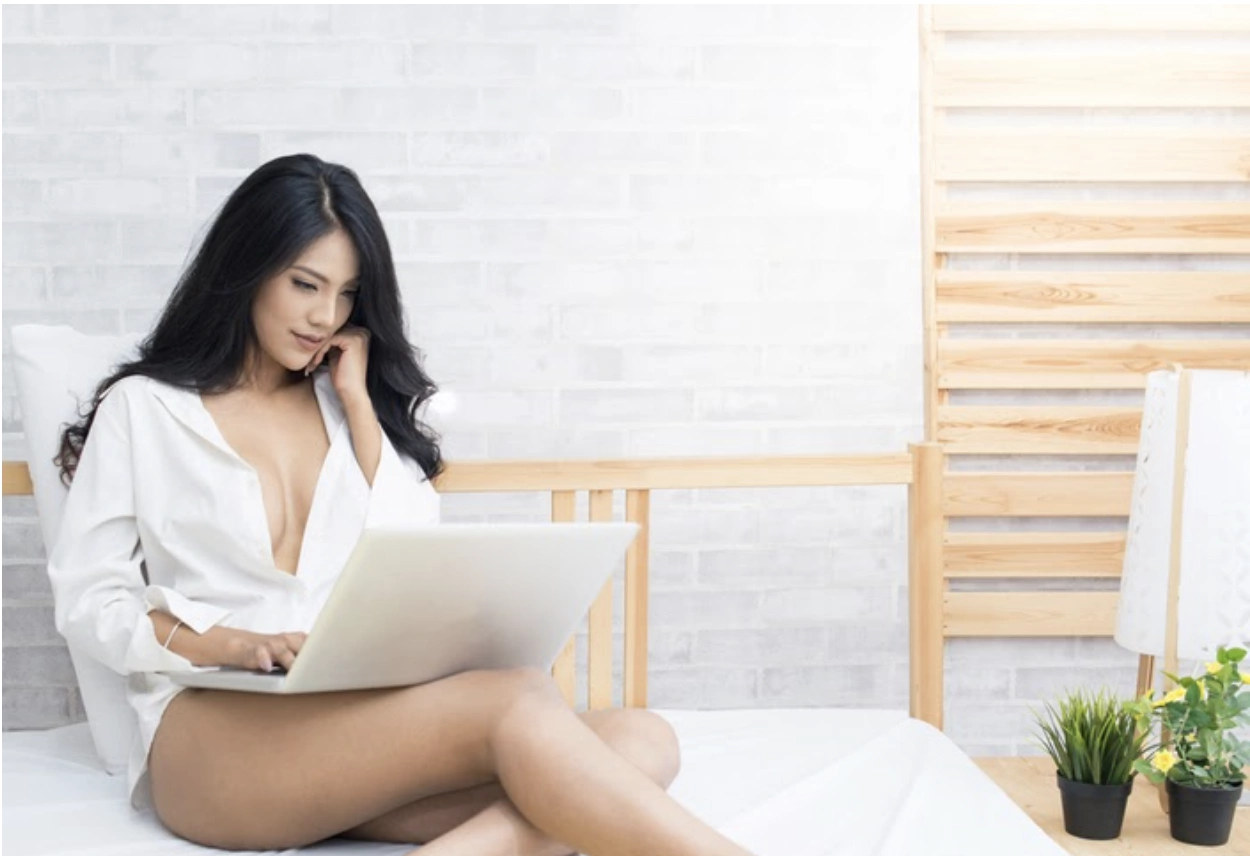 Once you've chosen the sex cam site you want to work with, it's time to create an account.
Keep in mind you need to sign up as a model, not a viewer.
Live camming sites usually have separate signup forms and processes for either cam models or their clients.
3. Choose Your Performance Style
It's time to focus on the performances you want to do.
Consider these things:
Know Your Physical Assets
Are you a thin girl with tattoos?
A BBW (big, beautiful woman) with all the right curves?
There's no other way to put it: you're selling your body here, and knowing your product helps you find the right audience for it.
Consider Kinks and Fetishes
This will greatly determine the content of your live sex shows.
You can go from more vanilla affairs like dancing and stripping to more exotic kinks like footjobs, or candle fetishes.
Knowing whether you're going to be a solo performer or one that's open to doing couples and group shows also determines your sex-show style.
The latter definitely provides more options!
4. Prepare Your Cam Girl Workstation
Finding the right equipment to use as a camgirl is worthy of a whole article dedicated to the subject.
While we already listed some points about this topic above, here are some more details for you:
Camera
Whether you're using a desktop, laptop, or smartphone, having a good webcam that's capable of providing clean and crisp videos for your live cam girl shows is the most fundamental piece of equipment to have in your workspace.
Tripod
Especially if you're using your smartphone to stream your live sex chats, a tripod is an invaluable tool.
It lets you set up different angles and shots, and the hands-free experience allows you more flexibility (wink, wink!) during your live cam show.
Microphone
It's not enough that you look sexy in front of the camera, cam girl!
You have to sound sexy, too!
Sure, smartphones, laptops, and desktops are now often equipped with built-in microphones.
But you want to make sure that your audience hears each and every kinky moan you make.
A good-quality mic can make that happen.
Showroom/Stage
Yes, you can basically work anywhere as a cam girl, but there are a few important things to take note of when determining your workspace.
These places will serve as your stage and greatly affect how viewers receive your performances.
Space wise, think: not too big, not too small.
For example, if you're performing solo, you need to be close enough for your audience to get all the juicy details you're selling.
On the other hand, if you're doing a couple's show, you don't want to be stuck in a 6-foot by 6-foot room.
Next, clear out the distractions!
Whether you want to install noise-cancelling wall padding, or just choose a secluded space in your home to do your shows, make sure that the only things that your viewers see or hear are the things you want them to.
The last thing you'll have to do is choose an appropriate set design.
This depends on what kind of shows you'll be doing.
For general use, your safest bet is to use an inviting bed or a comfortable gamer's chair that allows you to move and do your tricks for the camera.
5. Being a Cam Girl
Now to the nitty-gritty of business affairs…
Setting Your Hours
One of the nicest things about the live sex site industry is how your work hours depend on your availability!
Given that, you're free to do your cam modeling as a full-time gig or treat it as a side hustle to boost your income.
The average cam model performs three to four hours daily, but it all depends on how you want to schedule your live shows.
Pro tip: It's best that you set stable work hours…not just for yourself, but for your viewers as well.
Fans love nothing more than to know when, and where exactly you're going to perform your live sex shows.
Otherwise, they're left to periodically check any given live cam site just to see if you're online or not.
Making Money as a Cam Girl
One of the most important things to take note of when setting up your account is determining whether you have the necessary payment channels to receive the money you'd be making from your performances.
Live sex cam sites handle most of the heavy lifting in this department, as they usually employ their respective in-house currencies (such as "tokens", "gold", or "credits") that viewers use to pay you.
The site then takes a cut from your total earnings as a fee and, in turn, they're responsible for safely storing the credits you make before paying you.
Most live cam sites process your money and send it directly to your bank or PayPal account.
Some have more advanced modes of payment, such as cryptocurrencies.
Make sure you thoroughly check out all the available payout methods on any given site and be certain that your personal accounts are compatible with them.
Cam Girl Privacy
Unlike other sex workers like prostitutes and escorts, your whole business is online, so you have little-to-no risk of physical endangerment in the hands of some random stranger.
Your privacy is still crucial, though.
How can you keep your personal and professional life separate from each other online?
Tricky, yet necessary.
This is a matter of securing your data so the only people who can see what you put out are the ones you choose.
It also entails setting boundaries between your personal accounts online and the ones you use for your cam modeling gig.
Chances are, you wouldn't want your inner circle to find out what you do for a living (a sad truth, but true nonetheless).
Conversely, would you feel safe if you found out that a bunch of random guys from all over the world are stalking your IG account, sending you indecent proposals and whatnot?
Privacy tips and techniques include:
Never use your real name. Create a "handle" or "stage name" instead.
Don't ever provide personal data or financial account info.
Separate personal/professional. This includes contact info and social media.
What Are the Best Sites to Work as a Cam Girl?
As we said earlier, there are hundreds—if not thousands—of live sex chat sites active on the internet today.
However, not all of these cam modeling sites are made equal.
Below, you're going to find the best adult cam sites to work as a cam girl:
1. Chaturbate – Highest Possible Earnings for Cam Girls
Type: Combo site
Monthly traffic on average: Approx. 330 million visitors
Average monthly model earnings: $6k
Site-model split: 40% to site; 60% to cam model
Payout scheme: Weekly
Chaturbate is, undeniably, the most popular live cam site around today.
And judging by the average monthly traffic, you're going to be a cam girl without a shortage of prospective viewers on this site.
This live sex cam website is capable of hosting your HD videos and images for all your fans to purchase and see.
As far as the cut the site takes from your cam modeling, it's 40 percent: neither a high nor low percentage, but an amount that definitely won't leave you hanging.
It's also great that Chaturbate gives its cam models options on how to charge for their live show performances.
Usually, you're going to find that this is a place where cam models tend to do more public sex shows than private cam 2 cam ones, but the latter is still an option.
On the downside, you're going to be faced with thousands of competitors on this site, with each and every one of you vying for those valuable views and tokens.
Still, popular Chaturbate rooms regularly receive 1000s of visitors, so you've got the opportunity to make money on webcam if you're smart!
2. Stripchat – Best Overall Cam Girl Site to Work For
Type: Combo site
Monthly traffic on average: Approx. 120 million visitors
Average monthly model earnings: $9.5k
Site-model split: 40-50% to the site; 50-60% to the cam model
Payout scheme: Weekly
Stripchat is one of the largest working live cam model sites, and it's also one of the best places for cam girls to make some money.
Though not as big as Chaturbate when it comes to user traffic, you're going to find what Stripchat has to offer you as a cam girl is more than enough to keep you busy, traffic-wise.
Even better is the fact that there are a lot of serious viewers who visit this site.
It's a matter of quality over quantity, is what we mean.
So, not only are you getting a respectable number of viewers when you're cam modeling here; most of these people are paying customers, not casual viewers looking for free shows.
Stripchat is also perfect for newbie camgirls who have yet to establish their names in the industry, as the site provides lots of additional support for fresh up-and-coming faces on the scene, such as:
Guaranteed profile boosts
Allowing you to set your own rates
The ability to choose how you want to charge your audiences
Whether you're charging by the minute or letting people pay with tokens, Stripchat gives you multiple options. Two, to be exact.
3. BongaCams – Best Site-Model Split
Type: Token site
Monthly traffic on average: Approx. 300 million visitors
Average monthly model earnings: $4.2k
Site-model split: 10-40% to site; 60-90% to cam model
Payout scheme: Bi-weekly
BongaCams is the best option for cam girls to work at if you're looking for a live cam modeling site that has the potential to take the lowest cut from your gross earnings as possible.
Cam models who perform shows on BongaCams can take home anywhere between 60 percent and a whopping 90 percent of what they make from cam modeling.
The fact that it also has one of the largest user bases today just makes this live camming site an all the more enticing platform for cam girls and models.
However, keep this in mind: BongaCams exclusively offers token shows, so all the money you make will come from your viewers' tips.
The site doesn't offer any private show or cam 2-cam options.
Still, the average model on this site will make $4,000+ per month – nothing to be scoffed at!
4. LiveJasmin – Simultaneous Live Show Option
Type: Combo site
Monthly traffic on average: Approx. 250 million visitors
Average monthly model earnings: $4k
Site-model split: 20-70% to site; 30-80% to cam model
Payout scheme: Bi-weekly
LiveJasmin provides both its viewers and cam models with a premium experience, which is why it's one of the most popular cam modeling sites right now.
As a cam girl working for this site, you can earn up to 80 percent of your total earnings from your live shows, charged by the minute, with the option of receiving tips from your customers.
LiveJasmin is primarily aimed at private and cam 2-cam shows, so don't expect to format your live shows here using a "goal" system.
What makes this one of the finest sites for cam girls is that LiveJasmin allows for multiple streaming, which means you can do your live shows on this site, and other ones you might be registered with at the same time.
This, of course, gives you more opportunities to make money camming with less time and effort!
Two birds, one stone.
5. OnlyFans – Best Piecemeal Content Platform for Cam Girls
Type: Adult content platform (not a camming site)
Monthly traffic on average: Approx. 15 million visitors
Average monthly model earnings: $145
Site-model split: 20% to the site; 80% to cam model
Payout scheme: Every 21 days
OnlyFans isn't necessarily a live cam modeling site, but it's perfect for cam girls who want to supplement their earnings by providing their audiences with uploaded content that they can buy per piece.
This can range from image sets to pre-recorded cam shows, all the way to more unusual product offerings (some content creators even sell used undies and bathwater here).
Yes, the average earnings here might seem like peanuts, compared to a real cam modeling site, but it's still a great way to boost your earnings.
The 20 percent cut they take, which is one of the lowest around, is also another big draw.
Follow some of the best OnlyFans girls to see what it's all about.
Did you enjoy this walkthrough on how to be a cam girl?
Consider it as a way for newcomers to avoid any pitfalls on their way to establishing their own sex cam business.
As we say: live cam models, before anything else, are professionals.
Yes, it might be fun, but never easy, so don't let the glitz and glamor fool you. It's a business at the end of the day.
What do you think about this guide and the whole idea of working as a live cam girl?
Be kind enough to share it.
And if you liked reading this tutorial, we're going to send you big virtual kisses if you share it on your social media. It'd really help us a lot.