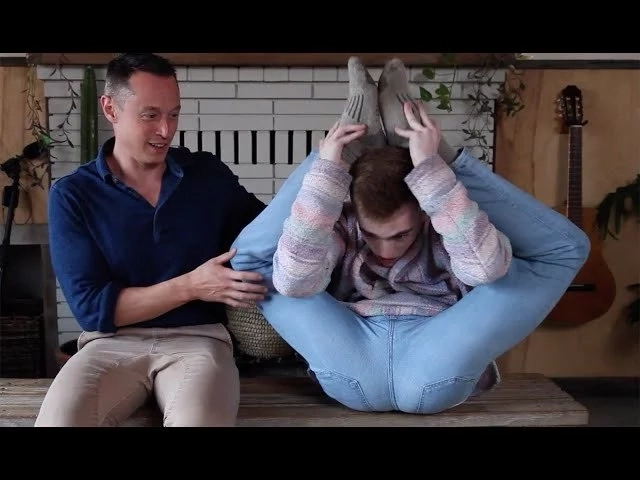 Assuming you do not have some bucks to go on a date with your opposite sex, then knowing how to suck your own dick will really come in handy.
If you can suck your cock yourself, then your will be saving yourself some bucks.
After reading this post, you will know exactly how to suck your dick and cum without the help of anyone.
One of the main reasons why you may want to suck your own dick is to cum.
Maybe your girlfriend disappointed you on a date you both had and you just can't hold it but find alternative means to discharge your cums.
Self-oral sex is not easy but not impossible.
So if you are ready then let's get started.
Suck your own dick following these steps
If you've got an open mind and a few inches cock you'll have it in your mouth in no time.
Come on, you've already given it a shot.
If you have a mouth, a penis, 15 minutes to spare, and even the slightest bit of curiosity, you've probably attempted to see how close you can get your face to that annoying little pecker you wear inside your pants.
That's okay; since the beginning of time, man has been attempting to eat their own cock.
Sadly, the majority of us are unable to.
The worst thing about that inch that separates your dick head from your sweet, sweet lips is that we know that there are guys out there who can genuinely bridge that gap they're not even freaks with a foot of pipe in their underwear.
These are just regular guys with the talent for enjoying themselves.
Here is some advice from 2 separate guys, each of whom is capable of fellating their own little fella.
The first is Deviant Kade, an adult video performer who frequently displays his penile parlor trick for the camera, and the second is a young man by the name of John who requested that his real name not be used because he doesn't want to be compelled to throw his legs over his head at every party he attends for the rest of his life.
These are some lessons we can draw from them.
Things to check that will aid self-sucking
Be lean
Kade is 5'9″ and John is 6′, and both of them are on the leaner side, weighing 130 pounds.
Naturally, if your tummy is smaller, it will be much easier to access your dick.
But, it doesn't appear to matter all that much how big the dick is.
It appears that body type is more of a problem than endowment because both guys are approximately seven inches hard, which is on the generous side of typical.
Open Up
It's not required to have a sophisticated understanding of downward dog, but both guys emphasized the value of extending, especially the neck.
Spend a week really seeing how far you can stretch your torso and everything above your shoulders.
Don't just get flexible on the day of your big try.
Kade even suggests taking a warm bath to help you unwind.
Sucking your own cock makes you even more homosexual.
Work Hard
"If someone can do it softly, they should be given an award," says John.
Isn't sucking your own dick enough of a reward?
Regardless, both men agree that harder is better.
Kade utilizes a cock ring to reach maximum stiffness and to maintain his stiffy saluting despite the pain in his neck or frustration that it is harder than normal.
Choose a Position
Kade prefers to lay on his back with his heels raised and his cock positioned close to his mouth.
Because a bed has too much give, he performs it on the floor or another hard surface.
One method is to lie on your back with your head against the wall and then slowly walk as near the wall as you can.
In addition to providing padding, a pillow placed beneath the head provides a little extra lift.
John enjoys a seated position where he bends at the waist and lowers his head to the promised land.
John learned how to self-suck while taking a crap with a boner (a special neurosis we won't even get into).
Get Help
Kade claims that his girlfriend assisted him in getting his dick over the finish line the first time he entered his own pleasure dome by gently pushing down on his legs.
He has had a lot of success gratifying both male and female partners while gratifying himself.
He claims that they are constantly amazed, amused, and eager to assist.
Why would you want to suction your own dick when there is someone else there to do it for you, you may be asking.
Who doesn't want to suck his own dick, is the obvious question I'll use as a response.
You ought perhaps to read another article regarding cat cafes.
Get Ready
In addition to recognizing that once you succeed in this field, everyone will want to know your hot secret, you also need to prepare for another surprise: cumming in your own mouth. The majority of (straight) guys have never gone through this, therefore there may be some gagging.
"The first time you put a cum in your mouth, it shocks you.
You can do it, so it's unexpected," says Kade.
"You're less concerned about the cum than you are about doing it.
I had just entered my mouth.
That's incredible!
Now everyone should begin to stretch and give it a try.
Also, keep a phone close by in case of an accident.
Calling a sympathetic buddy will be far simpler than getting an ambulance full of EMTs who will make fun of you.
How else do you suck your own dick?
Feel free to share with us.